The multiple challenges of S&OP
S&OP, or "sales and operation planning", is a process for developing strategic plans. It allows companies to direct their activities to gain a competitive advantage. Also known as "PIC" in French for "Plan Industriel et commercial", S&OP enables companies to manage their sales and operations strategy generally ranging from 12 to 24 months. It is based on three pillars: demand planning, supply planning and strategic planning.
The plan that emerges from the S&OP process is a single vision of the future. This is shared between all departments, which can act and react quickly and smoothly. In this way, the organization is optimally configured with maximum efficiency.
A good S&OP process can respond to many of today's challenges, such as the emergence of new competitors or adapting to a changing market. This includes the possibility of integrating more customer-focused marketing plans into the supply chain for both new and existing products.
When S&OP processes are optimized, it also helps to ensure that decisions and strategies are shared and implemented by both the executive and operational levels.
Multi-module S&OP software: what is it?
Multi-module S&OP solutions are collaborative tools where demand planning, supply planning, and strategic planning can communicate in real-time.
Nowadays, this real-time connection between the strategic and operational is essential to improving performance and productivity.
Many companies still use Excel to manage their demand planning. But these spreadsheets are outdated. They are often a source of errors or omissions. In addition, they do not adapt well to collaborative processes.
However, collaboration and communication are fundamental to the effectiveness of the S&OP process. If information is not updated in real-time, the whole chain is affected.
Adopting tools that allow operational and strategic teams to be connected in real-time avoids the pitfalls. In this way, the company's different functions can work towards common goals within a global and coherent strategy.
Otherwise, the company's operations are quickly affected, and the absolute risk of not meeting demand is considerable.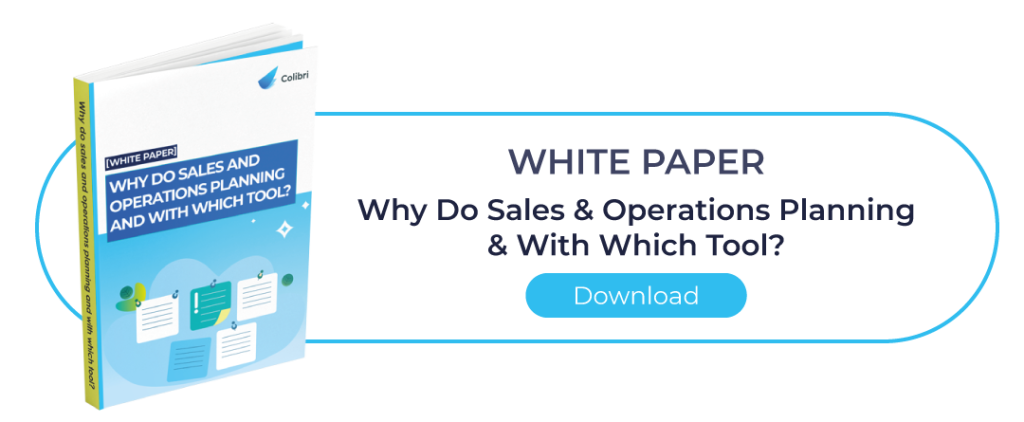 Sales and Operations Planning: 5 good reasons to adopt a multi-module software
1. Centralize and make reliable data
Multi-module software centralizes your data without the risk of error. Thanks to this collaborative tool, everyone uses a single format and a single reference tool. Teams avoid wasting time checking or formatting information. This tool helps you be more reliable at all levels, especially when it comes to forecasting. Allowing demand planners to work collaboratively, forecasts will improve periodically and on the proper scope.
2. Improve communication and collaboration between departments
This tool facilitates the work in all departments and helps to create a better working atmosphere. Synergies between and within teams are improved.
Employees enjoy a more relaxed working atmosphere, and collaborations are more sustainable. This reduces turnover and avoids regularly re-hiring and re-train new staff. This has an impact on long-term performance. In addition, teleworking, now a must for many employees, is made more accessible.
3. Save time
A collaborative and centralized S&OP tool avoids information inertia. Similarly, a multi-module software package considerably limits the time-consuming back and forth between departments.
These time and productivity gains are beneficial at all levels. They help to achieve more excellent reliability and speed in decision-making. All of which give you a competitive advantage.
4. Benefit from a 360° view in real-time
Companies that opt for a single collaborative tool offer all their staff better visibility between departments and a global view of the supply chain. Therefore, each team member can participate in and enrich the joint reflection. All in real-time. This boosts the efficiency of the processes and enhances the value of the teams who have much easier access to information. This 360° vision, in real-time, facilitates S&OP management.
5. Ensure that actions and decisions are aligned between the strategic and operational levels
Demand, supply, and strategic planning are linked, dependent, and connected. For example, the operations planned by supply planning are based on demand forecasting and depend on the overall decisions taken in strategic planning.
Therefore, each module must feed the others according to its data. If this is not the case, there is an unfortunate risk that the teams will work on different bases or in different directions. The company then risks losing efficiency.
Colibri is an innovative Sales & Operations Planning solution, a multi-module, collaborative tool. Demand Planning, Supply Planning, and Strategic planning communicate fluidly and in real-time to provide instant and unified information.
With Colibri, your employees benefit from tools with specific and interconnected functionalities for greater flexibility, reactivity, and efficiency. Each team member can work together and enjoy easy access to information, whether it concerns demand, supply, or strategic planning. The result: fully transparent and consistent strategic and operational planning.
So schedule your personalized demo now!