Free, quick to learn and familiar to everyone, almost anything can be done with Excel. It is quite easy to get started even if you don't know much about the tool, which is probably why so many companies start with Excel to manage their supply chain planning processes. However, when it comes to integrating business practices and collaborative processes, Excel shows its limits: slow connections between files, tedious manual management, poor reliability, complex collaboration, data loss, lack of figures integrity, etc.
Have you ever been on the verge of a nervous breakdown using Excel? It may be a sign that it's time to drop it. Here are 7 signs showing that it's time to move on:
1. You lack global vision
Sales history, order book, budget, business data… all are important elements in your forecasting process, even more so when they are crossed. However, one of the main issues with Excel is that this data is scattered in different files, in several departments of the organization, and often in miscellaneous formats.
Because of data fragmentation, the company lacks overall visibility, making it difficult to make strategic decisions.
2. You are unable to do mass updates
In case of unpredictable events, such as a crisis, it is necessary to be able to quickly mass update the data in order to include the possible negative effects on the forecasts. Unfortunately, Excel does not allow you to easily get to a relevant level of details.
For example, if you want to revise your forecasts for all your products on the French market, you will have to modify the initial forecasts product by product. In Excel, this tedious and unreliable task is time consuming and does not allow for simultaneous testing of different assumptions. By adopting a demand and supply planning tool, such as Colibri, you just need to enter a 20% change at the right level of granularity to impact all the related data.
With just a few clicks, it is possible to implement a strategic decision, such as a drastic forecast reduction, on all products and customers belonging to a given scope. Giving up Excel for an agile tool thus allows you to mass update your data in just a few seconds.
With Excel, it is very difficult to forecast per item per customer. For a manufacturer offering thousands of items sold to hundreds of customers, this can be very limiting. Specialized tools such as Colibri allow you to make intelligent mass forecasts. This means that each item will have a forecast that takes into account its own seasonality and characteristics.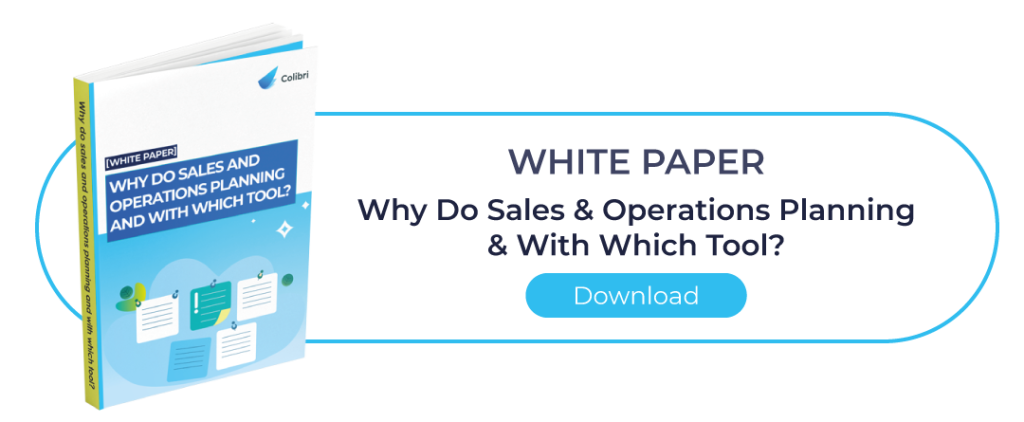 3. Your various departments fail to collaborate effectively
As you may already know, collaboration is essential for an efficient forecasting process. The forecaster needs to gather qualitative information from different users to ensure forecast quality. However, Excel makes it difficult for the different stakeholders to work together: it is difficult to share information, to have multiple contributors or to add comments. It is also impossible to set up an alert system and repetitive file exchanges can quickly become a burden for teams. When working with Excel, the road to collaboration is full of obstacles.
4. You skip archiving forecasts
Using forecast archives is valuable for reliability assessments, but it often goes by the wayside when using Excel, as it requires a lot of storage space and computing power. This is a pity because it is a crucial part of the forecast reliability analysis. Indeed, can we still afford not to measure the performance of a strategic process?
5. Your demand planners spend days making their forecasts
History cleaning, manual forecast calculation, reporting, … With a poorly adapted tool, it is not surprising that a demand planner spends days doing tasks that could be done in a few clicks with the right tool. Of course, sometimes demand planners hold on to their in-house solution designed with Excel because it's a reassuring environment that they can control. But think of the time wasted on low value-added tasks, when they can be automated with a solution designed for the supply chain!
6. You are unable to quickly adapt to the market
Flexibility and scalability are completely foreign to Excel and in a changing world like ours, it is risky to rely on an in-house solution that does not anticipate tomorrow's challenges. In a context where working from home is becoming mainstream, you need to be able to rely on agile digital tools that adapt to legal evolutions and changes in consumer behavior.
7. You are facing security issues
Working on Excel implies frequent file sharing, which creates a risk for your data. By choosing a Sales & Operations Planning tool, you have access to the best security standards on the market (HTTPS, 2FA, …), as well as efficient backup solutions (georeplication, point in time restoration, …).
Because ergonomic and user-friendly tools are key to any project success, Colibri has developed a simple solution dedicated to the supply chain industry. Easy to learn and user oriented, Colibri allows you to do much more than what you used to with Excel, and twice as fast. Your teams can thus easily improve their skills and gain in productivity, while your demand and supply planning processes are structured, thanks to an innovative tool. Find out more, ask for a demo!