A normal day in a supply chain stakeholder's life includes analyzing large amounts of data and constantly adapt forecasts. All of this, in a fast-moving environment. If you recognize yourself in this description, try using a new supply chain software designed to optimize these tasks and offer a wide range of functionalities, it will soon become essential to you.
Choosing a powerful demand planning software
As a demand planner, you act as the link between the various departments of the company in your quest to reduce the uncertainty linked to the difficulty of future anticipation. In order to provide the company with data on future sales, you must rely on statistical and mathematical models, sales history, market trends and seasonality.
Designed to support you with these daily tasks, demand planning software help define more accurate, more streamlined, and more structured forecasts. The best software are most likely those that combine easy implementation and fast ROI as well as a modular solution. Indeed, too many companies say they only use a small part of a solution's capabilities, while paying the full price.
Simple, ergonomic, flexible, the demand planning software you choose should also and above all feature practical functionalities adapted to your needs.
1. Simulations and simplified forecast calculations
New Supply Chain Planning tools usually combine understandable, well-known, and approved statistical models with technologies such as machine learning or the cloud. With a detailed, clear and intuitive interface, they provide all the necessary tools to easily carry out simulations and forecasts, while allowing an adaptive and evolving business approach.
2. Accommodating the needs of all employees
Another key feature to look for in latest generation demand planning software is the ability to include all contributing employees in the sales forecasting process and set up update alerts for some or all of them. User access can also be limited to the products or screens that they are responsible for. This way, teams can focus on the parts that are relevant to them.
3. Flexibility and modularity for all
Because it is key to be able to easily navigate between several use cases, to step back to get an aggregated view or, on the contrary, to dive into a detailed view, look for a flexible tool.
Look for new generation software designed to apply a good level of data granularity, i.e., a very high degree of detailed information. This way, you'll be able to easily select products, categories or references in the time frame (week, month, etc.) or unit (quantity, euros, etc.) needed. Also, these tools can be configured for each user to access data at a relevant and understandable level of detail.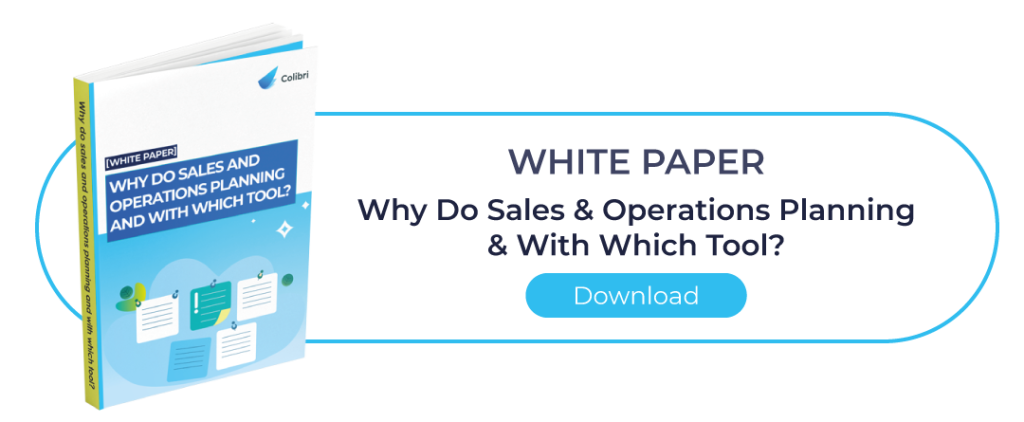 4. Clear data visualization
Because they should facilitate decision making, look for software that offer a synthetic view of your data, and more particularly for those that include dynamic dashboards for reporting and analysis. As they are usually plug & play on the software's database, these dashboards do not require any additional interfacing. They are ideal meeting presentations and management reporting tools.
Adapting to the Supply Planner's multiple tasks
A key position in the supply chain, as a supply planner, you are multifunctional by nature. Among other things, you must forecast and anticipate needs to limit stock outs and monitor deliveries to optimize costs. Choosing a software that can be easily controlled and configured helps the you be more productive in all your daily tasks.
1. Work by exceptions
The most efficient supply chain planning software offer the possibility to be configured to work by exceptions and alert levels. These features facilitate focus on emergencies such as out-of-stock situations, late deliveries, or inventory falling below safety levels.
2. Breakdown into planning groups
In a demand planning tool, look for practical solutions promoting a streamlined organization such as different configuration options that allow you to regroup by type (suppliers, ABC classification, warehouses, …), define specific settings to each group and assign them to the users in charge.
3. Multi-vendor management
Advanced supply chain planning solutions can also provide efficient tools for grouped planning of a set of products from a given supplier according to its logistics constraints (containerization, full truckload, etc.).
4. Multi-unit management
Another convenient feature to look for everyday use is the ability to instantly select the unit you want to work in and then, easily switch from one unit to the other at any time, as needed.
Handling your demand planning in Excel is potentially complicated and time consuming. Why not witch to a Supply Chain software? They are more powerful, more flexible, and easier to use. Make your job as a demand planner easier by using analysis, reporting and data visualization tools that provide real added value for mass data processing.
Ergonomic and collaborative, Colibri is a tool that offers clear and efficient functionalities. Spend less time on forecasts and improve your performance, especially your service level.