COLIBRI is a complete tool dedicated to S&OP. It helps you manage Sales and Operations Planning, simulate, compare, and make decisions according to your objectives. In a few years, COLIBRI has become the leading S&OP solution for the SME sector. Simple and quick to implement, the solution can be deployed in just 3 months! This S&OP software enables you to carry out simulations in record time. This allows you to make the company's best strategic and operational decisions. In short, with COLIBRI, you fully embrace the benefits of S&OP!
Colibri: a new generation modular solution…
The COLIBRI tool is a modular solution where Demand Planning, Strategic Planning and Supply Planning can communicate in real-time. And those changes everything: this better connection between the teams allows the company to improve performance and productivity significantly.
Even today, many companies in all sectors of activity remain faithful to Excel for Demand Planning management. But spreadsheets quickly show their limits! Outdated, they are often a source of omissions or input errors. Moreover, Excel does not adapt well to collaborative work processes.
If the information is poorly transmitted or if it is not updated in real-time, the whole chain can be affected. The risk of not being able to meet the demand then becomes significant…
With multi-module software such as COLIBRI, data is centralized. There is no need to waste time checking them. The inertia of the information is limited, as are the time-consuming trips from one service to another. Reliability is improved, especially for forecasts. Synergies between teams are increased. This leads to better productivity but also a better working atmosphere.
Opting for the COLIBRI tool connects operational and strategic teams in real-time. The company's different functions work together following the common objectives of a coherent global strategy.
COLIBRI users benefited from a collaborative tool, accessible from anywhere thanks to the Cloud and focused on the user for greater efficiency. Intuitive and ergonomic, the solution integrates data science. Innovation makes the difference in anticipation and improving operational performance. The software applies the most advanced developments to serve the end customer and his real needs. It combines technologies to improve supply chain processes and thus adapt to the emergence of Omni-consumers…
…and a quick solution to implement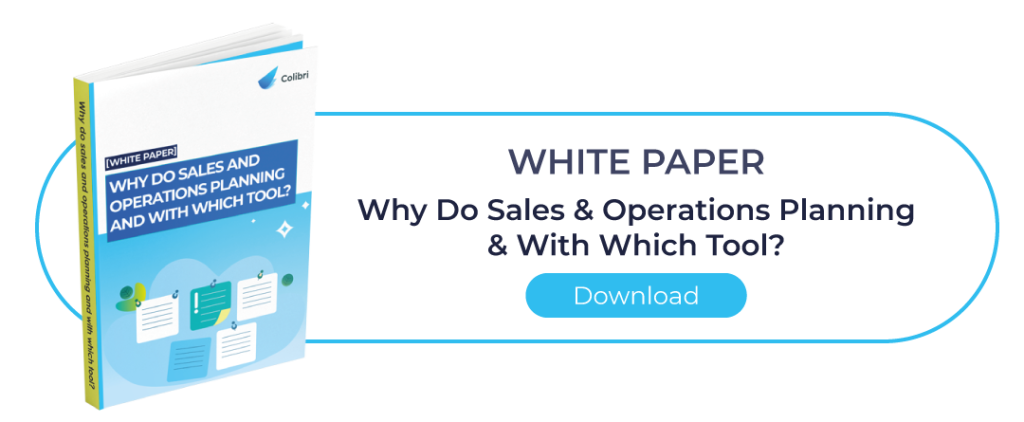 By adopting powerful supply chain software, companies can save time, make more reliable forecasts and optimize their stocks. However, there are many concerns about adopting such a tool. Amongst these fears are those of overworking already busy teams, opting for software that is too technical and not very intuitive, or losing control of the data.
To prevent these fears from pushing companies to stick to Excel, COLIBRI has chosen to go against traditional methodologies, which involve particularly long project times.
The implementation of COLIBRI takes about 3 months. But in concrete terms, over the 3 months of the project,
Only 10 to 15 days are left to the key user. The rest of the work is done by COLIBRI consultants.
The tool has been specifically designed to make IT departments' interfacing burden as light as possible. This can be done in only 4 to 5 days. The COLIBRI tool is, therefore, rapid to set up and does not require a huge amount of work from the relevant employees in the company.
Finally, COLIBRI is committed to providing personalized support. Extensive assistance that is adapted as closely as possible to the needs of each company. For example, when the IT teams are unavailable, COLIBRI offers a package that provides easy interfacing. All the company has to do is extract the data from the ERP. COLIBRI's teams take care of converting everything into the right format. Thanks to this Azure Data Factory service, the IT department's workload is reduced by 80%!
Colibri: what return on investment?
By adopting the COLIBRI solution, companies can achieve ROI in record time by :
Qualitative gains: as a collaborative tool, COLIBRI simplifies processes, and makes them more secure and much faster. Information sharing and communication within the company are improved. Employees become even more productive and can concentrate on more rewarding tasks with higher added value. Everyone wins, including suppliers who see the company gain credibility. Information flows better for all contacts, both internal and external.
Quantitative gains: companies significantly improve their forecasts, and stock is rationalized. Thus, obsolete products are limited while the supply of best-selling products is made more reliable. The risks of stock-outs are considerably reduced, allowing the company's turnover to increase!
While other tools on the market are cumbersome and complex to set up, COLIBRI is quick and easy to install. As a result, companies quickly benefit from the expected results. The result is an ROI achieved in record time. Designed to bring you coherence, intelligence, usefulness, and cohesion, COLIBRI simplifies company processes and improves productivity. Take advantage of an adapted, sustainable, and scalable solution. To find out more and test the COLIBRI tool, schedule your personalized demo now!