The strategic importance of forecasting and flow management for supply chain processes is no longer in question, but this does not make the Demand Planner's job any easier. With the intensification of international competition, the increase in demand for products with a very short life cycle, and the multiplication of distribution channels, forecasting is an ongoing race against the clock… One misstep, and the vicious circle begins: overstocks, shortages, back orders, delays, emergency procedures, team disruption….
In this environment, how can you shorten forecasting time, while meeting deadlines and ensuring operational excellence? We invite you to take a short break reading this article to discover how by using a simple, powerful, and flexible solution, your forecasting time can be divided by 3!
Demand planner: a key role
As part of the Sales and Operations Planning (S&OP) process, the Demand Planner's mission covers everything from forecasting to logistics optimization, including procurement, inventory and distribution. By maximizing flows (cash, sales, services) and analyzing data, the Demand Planner manages demand and inventory levels. A pillar of the supply chain and a true Swiss Army knife handling a wide range of tasks.
First, the demand planner is constantly interacting with sales, marketing, purchasing, finance and production. This proximity is key to understanding the drivers of demand forecasting, but coordination is often a challenge!
Adjusting forecasts and production runs is also the Demand Planner's responsibility. Various impacting factors, such as seasonality, special offers, market trends, and the variability of financial budgets must be taken into account in order to propose relevant adjustments. She must understand the challenges, opportunities, and risks to decide whether or not, and at what level she should integrate them into her forecast plan.
The Demand Planner is also in charge of improving the accuracy of the forecasts provided by the statistical models and software she's using. It is therefore her responsibility to coordinate cross-functional actions and update the supply chain tool. As such, S&OP meeting management and reporting are fully part of her job.
Finally, the Demand Planner handles DATA! The analysis of quantitative and financial forecasts involves synthetizing, interpreting and measuring an astronomical amount of data from all departments. An exercise that requires rigor, finesse and relevance, since the strategic decisions of the supply chain are based on these forecasts.
Working under pressure would you say?
Which challenges is the Demand Planner facing?
The Demand Planner's main challenge is to be as efficient as possible while optimizing S&OP processes' investments, time and reliability. In addition to efficiency, which is already an organizational challenge and requires a good deal of resilience, there might be structural difficulties: resistance to change, for example, or the lack of coordination as urgency and immediacy have taken over the daily routine. Not the most serene job you've ever heard of!
On the other hand, to be accurate, efficient demand planning requires the input and involvement of all S&OP stakeholders. The process is however repetitive and time consuming. Although holding regular meetings is a prerequisite for the implementation and smooth running of collaborative work, it won't be enough. And that's where the productivity issue comes into play!
Complex and inconclusive meetings, weariness, uncertainty, lack of transparency or visibility, loss of data, … these "human" challenges are unavoidable. It is therefore critical to be able to rely on a powerful and easy-to-use tool. It allows you to centralize information, automate specific tasks, proactively size the S&OP load-capacity ratio, pre-select the products that will be on the agenda and work in real time.
A big step towards more serenity to meet the Demand Planner's challenges!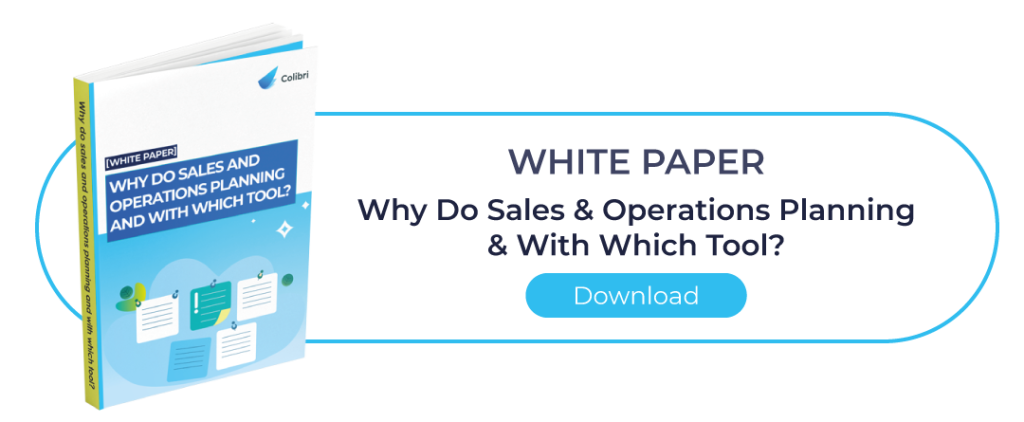 Save time forecasting with Colibri
The operational demand planning process aims at accurately estimate future sales by continuously assessing demand with different criteria, such as quantities, prices, quality or dates. In a highly competitive environment, it is speed and accuracy of decision making that will make the difference.
In this respect, the Colibri solution offers one of the best time/efficiency ratios on the market.
User-friendliness and usability
The solution can be set up in only 3 months. Thanks to its simplicity and speed of implementation you can expect quick payoffs. The tool runs multiple simulations simultaneously and can apply a different scenario to each one of them. For example, you can compare more or less optimistic demand plans or test a new industrial supply chain strategy. Simulations and product profiles are completed in record time, so you can make the best decisions in a coordinated way. The idea is to streamline internal processes and relieve teams with a pressure relief valve that empowers the process.
Collaboration for greater efficiency
As mentioned above, data comes from all of the company's departments. The Vision module of the Colibri software is designed for collaboration and allows contributors, whoever they may be, to feed fresh data into the forecasts and analysis. This is done directly in the tool and in real time, with automated notifications to the forecaster. The Demand Planner works with a single reference format, with no time wasted on checking, formatting, etc. which means tremendous gains in productivity, while minimizing the risk of errors.
Thus ends the reign of siloed information, a vector of disempowerment and reduced involvement, as well as that of inopportune and time-consuming exchanges between departments, encouraging loss of data and waste of time!
Easy to use interface
The tool produces clear, interactive and shared dashboards thanks to its ability to synthesize and display data. Intuitive and user-friendly, the visual interface is adapted to each stakeholder. No more heavy and tedious specifications and design files, which would have made the solution obsolete even before its implementation. With just a few clicks, Colibri provides a reliable and complete analysis. Imagine how much time and efficiency can be saved, at all levels of the company!
Improved processes through software structuring
The Demand Planner can prevent resource overload with runs calibrated to production capacities and pre-defined rules. Planning workload and lead time as well as emergency situations are also greatly reduced. With a properly calibrated tool, overstocks, shortages, late deliveries and backorders can be avoided. Teams are more serene and the quality of their work improves. It's impossible not to go for it!
Each screen of the Colibri application has been designed to provide intuitive and ergonomic workflows allowing good data visualization, user-friendly features and optimal usability… the 100% user-oriented solution is a welcome relief for everyday operations.
In addition, the accuracy and reliability of forecasts improve over time, as users progress through the learning curve and develop the ability to define the right perimeters. In the end, teams are more productive, and not just a little: imagine a task that takes a week to complete in Excel and requires only a few days in Colibri. All this time saved can be devoted to high value-added tasks and improving everyone's skills!
100% Cloud-based, Colibri supply chain software offers speed, flexibility, efficiency and scalability. It opens the door to operational excellence for the Demand Planner, as well as for all supply chain teams. Learn more by requesting a demo!