Mehdi Kharab and Nicolas Commare, founders of Colibri, detail different topics to ease your users' life and improve your Supply Chain performance: rapidity, simplicity, centralization, algorithmic, automation.
Rapidity
At Colibri, we like to talk about "Time To Market". Meaning, the time between the instant you think "I have a problem that needs solving with a Supply Chain Tool" and the moment you reach the return on investment of your solution. As Nicolas Commare (Colibri CEO) explains « one of Colibri ambition is to reduce this period at a maximum, and if possible, to be below 12 months. To do so we need to change our ways"
Time became a competitive weapon. A modern, flexible, effective and adaptable approach will allow to obtain a competitive advantage and earn gains quicker. To spend months thinking about a solution to eventually end up with something that might not meet 100% of your needs (that might have changed in-between) is not efficient for your users.  
« At Colibri we offer a prototype in two days. This allows to quickly deliver a use case and bring together the key users around the tool at an early step of the process. According to the satisfaction level, the partner can choose to confirm, rework or do a no-go of the solution. Finally, the time and financial impact will be minimal. You have everything to gain from testing a solution" explains Nicolas.
Simplicity
Simplicity is linked to performance. Performance means operational excellence and rapidity. Most of the time, in Supply Chain performance is achieved through a simplification of the processes.
This is the case when we look at the Kanban, Lean, 5S methods or agile project management. Which coincide with the achievement of separate simple tasks. This simplicity allows to reach a greater performance.
Simplicity is also linked to ergonomics. It is better to choose a tool close to what your users are used to.
"Our principal competitor is Excel. Indeed, it is a known tool allowing to do a lot of different tasks. We decided to have a user experience approach in Colibri: concise and clear screens to make sure of the optimal onboarding of users" explains Mehdi.
Finally, simplicity means time savings. On a global way, it is straightforward that through a screen or a process, a tool should be easy to understand and use. This allows to reach a user expertise level fast and with an optimal onboarding.  
This simplicity can be seen in some functionalities allowing, for example, to correct sales historics only for class A products, or to have flexibility when modifying the forecasts in bulk. A useful functionality to face a crisis such as COVID 19. (Read our article How the manage your Supply Chain during COVID19)
Centralization
When you aspire to a certain level of performance and flexibility for your Supply Chain, it is necessary to have at your disposal several types of data :
Sales historics
Sales foreacsts
Orders book
Budget
Forecasts archives
These data, most of the time scattered in the organization, are necessary for an efficient Demand Planning process.
Colibri allows the centralization of data but the decentralization of users. User can be of different types (sales manager, partners, suppliers…), located all around the world, but all the data are centralized in one tool.
Algorithms/Intelligence
To have a tool allows to increase performance and save time. The algorithms and intelligence offered by the software editor are obviously important.
« At Colibri, we think that AI or machine learning technologies are only useful if they help the users. Moreover, it is paramount to understand how are calculated the suggested results, otherwise the solution might not be used" explains Mehdi Kharab.
With this in mind, Colibri offers to automatically detect and clean abnormal sales historics. Besides, the possibility to launch a forecasts calculation in bulk can be very useful if you have many articles to manage. This allows to have a specific forecast for each article without having to spend time on each one.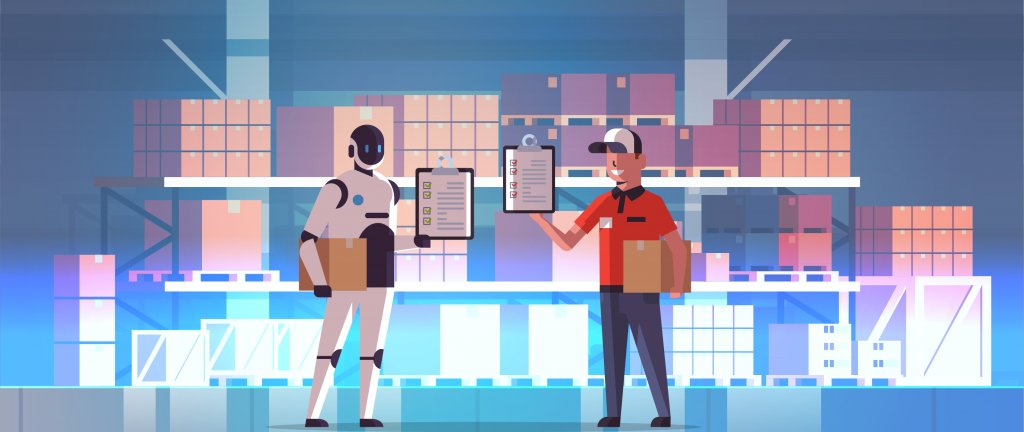 The question of automation and robotization
There are 3 levels: automation, robotization and the brain.
Automation: It is the management of tasks without intelligence, such as imports, filters implementation… most of the time repetitive, they do not need too much thinking.
Robotization: robots will be able to run complex strategies, such as advanced algorithmic, to define which algorithms to use regarding the scope and given situation. There is also the machine learning that will work on the algorithm and learn from the situation to adjust and gain performance over time.
The brain: Users will never be replaced by a solution. We believe that tools, as smart they are, will apply strategies and "feelings" of the experts. Machine learning will run the strategies and highlight inconsistencies, if there are any, to help the user, save time and improve the performance of the process.
Finally, in the case of a unique situation such as COVID19, it would have been impossible for a system to foresee the crisis and its effects. It is thus crucial for the user to intervene in the tool and tell it how to react.
The machine will make the life of your users easier, applying strategic decisions quickly.
For us, this shows the flexibility we need today and the modernity we want to achieve. The duality between man and technology will allow users to have better processes and global Supply Chain performances" concludes Nicolas.