It's hard to trust a story that starts with "once upon a time", isn't it? It's too good to be true. But some stories are not fairy tales but real. This is the case with Hummingbirds. And spoiler alert: it ends well! Let's see how it goes.
Colibri: a cloud-native S&OP platform…
Colibri is a complete tool. This multi-module S&OP software helps you manage your Sales and Operations Planning from A to Z. Demand, Supply and Strategic planning: the whole chain gains coherence, efficiency and visibility.
What's the best thing about Colibri? Being Cloud native. Speed of action, scalability, accessibility, security, scalability… Cloud-based technologies offer many advantages. Thanks to the cloud, you can also limit the involvement of technical teams in the deployment and maintenance of the S&OP tool. The project phase is thus considerably shortened, and the management of the solution does not burden the IT department. The cloud allows you to adapt the databases' power to the company's activity and needs.
Thanks to the cloud, regular updates that add value to the solution can be offered regularly. Colibri is constantly evolving, functionally – to best meet the needs of its users – and technically – to ensure flawless security. Colibri is hosted in the Microsoft Azure Cloud and runs on SQL Server databases. It is compatible with most web browsers and is developed with .Net, JavaScript and HTML 5 technologies.
With Colibri, you benefit from all the advantages of the cloud: security, scalability, and scalability!
… for an intelligent Sales & Operations Planning process
Companies increasingly recognize artificial intelligence as a powerful solution for organization and planning. It is not uncommon for performance gains to be achieved using intelligent tools. This is where Colibri comes in, offering features based on artificial intelligence. They are handy for supply chain planning and S&OP process management. Colibri offers 3 complementary modules:
The VISION module of demand planning :
Simulation and forecasting
Detection of abnormal history.
Automatic cleaning.
Mass forecasting.
Work and filters at different levels of granularity, units, and time grids.
Intelligent reporting and analysis…
The module FLOWsupply chain planning :
Working with exceptions and alert levels.
Dynamic and calculated safety stock management and planning by suppliers & containers
Dynamic ABC classification.
Multi-vendor management.
Various units (volume, price, quantity) …
The PILOT module for strategic planning :
Simulation of different assumptions.
Capacity calculation.
Financial projection by assumption.
Industrial strategy…
The result: reduction of stocks, time savings, reduction of out-of-stock situations, improvement of the service rate, decrease in order costs, structuring and fluidity of processes, alignment of operational and strategic functions, collaboration, steering and coordination of the business….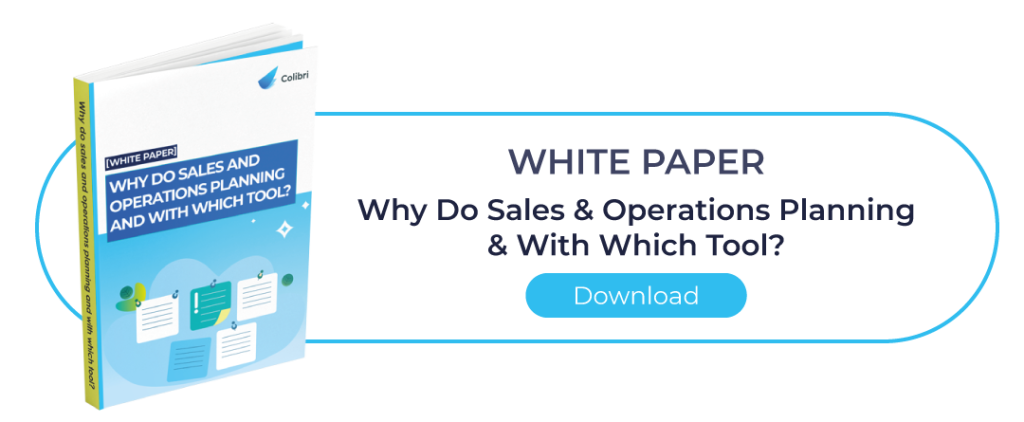 Choosing Colibri means opting for a planning tool that takes advantage of intelligence and algorithms to offer you functionalities dedicated to your business needs.
But beware: artificial intelligence and algorithms only make sense if they help the user and are intelligible! Aware of this challenge, Colibri places ergonomics at the centre of its concerns. The objective? To provide business teams with intelligent analyses while quickly navigating between several use cases, thanks to an intuitive interface.
Colibri: a simple software, but not simplistic!
Quick set-up
Although Colibri is based on complex, innovative technologies, the software is simple in terms of integration and usability. At Colibri, we started from the premise that most S&OP solutions on the market are cumbersome and complicated to deploy. Also, one of the significant fears of companies is spending too much time and resources to implement new software. To address this issue and prevent companies from being limited to Excel, the Colibri solution has been designed to be quickly deployable without creating an additional internal workload.
Colibri takes the opposite approach to traditional methodologies. There is no need to spend six to ten months writing specifications, designing processes, analyzing responses, etc. In ten days, we configure a contextual prototype that allows potential users to project themselves into a real-life use case. A small prototype is better than a long speech!
What happens next? The implementation of Colibri takes about 3 months. However, of these 3 months, only 10 to 15 days are for the key user. The rest of the work is done by the Colibri consultants. Moreover, the IT department's interfacing workload is as light as possible: it can be done in just 4 to 5 days. However, Colibri offers an Azure Data Factory package if the IT teams are unavailable. The company only needs to extract the data from its ERP: Colibri takes care of the rest!
Thus, throughout the implementation of the S&OP tool, we offer your employees personalized support. We adapt to the company's specific needs for a quick and easy introduction.
And immediate results
With Colibri, companies can significantly improve their forecasting and streamline their processes. Stock is rationalized: the risks of shortages or overstocks are reduced. The company facilitates the occurrence of emergencies and frees up investment capacity. The possibility of projecting different business hypotheses also allows you to make the right strategic decisions with full knowledge of the facts. Ultimately, your turnover can increase by 2 and 10% with Colibri. We told you it would end well!
Want to keep the magic going? Schedule your personalized demo now and ask our specialists your questions live!
You can also discover another story with a happy ending:
Success Story: how Photoweb implemented simple, fast, and centralized sales forecasting with Colibri!