Goods and raw materials distribution is currently undergoing a major transformation. New production methods and consumption behaviors are leading to new supply systems. At the heart of these changes, Supply Chain Management must be reinvented without modifying all its processes. It is through new tools and an innovative methodology that SCM will be renewed and will live up to the challenge of its own evolution and competitiveness.
What is Supply Chain Management?
To understand the stakes, it is important to start with the fundamentals of Supply Chain Management, which concerns both transport logistics and the entire organization.
A/ What is supply chain?
Supply chain covers much more than trucks transporting goods and delivering them to customers. It includes entire processes:
Transport flows.
Information flows.
Financial flows.
Global management flows.
Supply chain covers everything from ordering to invoicing, from inventory to handling, and of course, goods procurement. For companies, it is therefore a matter of continuous flow management that requires a powerful software solution.
B/ Supply Chain Management or SCM: a definition
SCM is the process of delivering the right product to the right place, at the right time, in the right quantities, at the right cost and with the right information.
However, rethinking SCM means adding three elements to this definition:
Technological innovations (robotization, data science, machine learning, artificial intelligence, etc.).
New consumer behaviors (omnichannel, e-commerce, personalization, last mile and delivery issues, social networks/influencers, ultra-connection).
Environmentally induced changes (regulations: carbon tax, legal constraints: ban on certain plastics, ban on destruction of goods, local sourcing, reduction of transport emissions, return flows (return of old products in exchange for a voucher, etc.).
Supply Chain Management consists in managing the flows starting upstream at the suppliers level and all the way down the chain to the customer (consumer or business). This process allows the top of the chain to develop a methodology and provides the means to make it efficient. The entire supply chain is thus optimized and, in the best-case scenario, savings are achieved throughout the chain.
A Supply Chain Management tool is thus aimed at optimizing the supply value chain's organization, both in terms of collaboration within the company and coordination with partners along the chain. 
How does Supply Chain Management or SCM work?
If we were to reduce Supply Chain Management to its simplest definition, which is managing the supply chain, it would not be enough to understand all the subtleties and the variety of SCM-related processes.
A/ Supply Chain Management: What is the scope?
The scope of Supply Chain Management encompasses all material, technical, administrative, and human aspects of sourcing, producing, and delivering a product, from raw materials to delivery on the customer's doorstep.
For this, human and material resources are needed: necessary workforce and service providers, suppliers, warehousing, transportation, tools, handling machines, vehicles, packaging, fuel, etc.
And to manage all these aspects from an organizational and financial standpoint, the SCM is equipped with management and information tools.
B/ The 4 main functions of the Supply Chain Management or SCM tool
The Supply Chain Management tool has 4 main functionalities which cover all the needs mentioned above:
1 – Aggregate information
The SCM tool aggregates all the data from the organization's management tools, collected directly from the ERP, CRM and CAPM systems. The information can also be centralized on a single ERP. The SCM can thus calculate and forecast the supply chain evolution based on previous orders and forecasts.
2 – Process information
An Advanced Planning and Scheduling (APS) tool can be used to plan even more efficiently. It can also be integrated into an ERP software. Its purpose is to facilitate decision-making to organize the supply chain in the best possible way, by way of offering various high-performance scenarios.
3 – Centralize information and promote collaboration
All partners, suppliers and corporate stakeholders have a collaborative access to data that allows them to align their own decisions with the global strategy.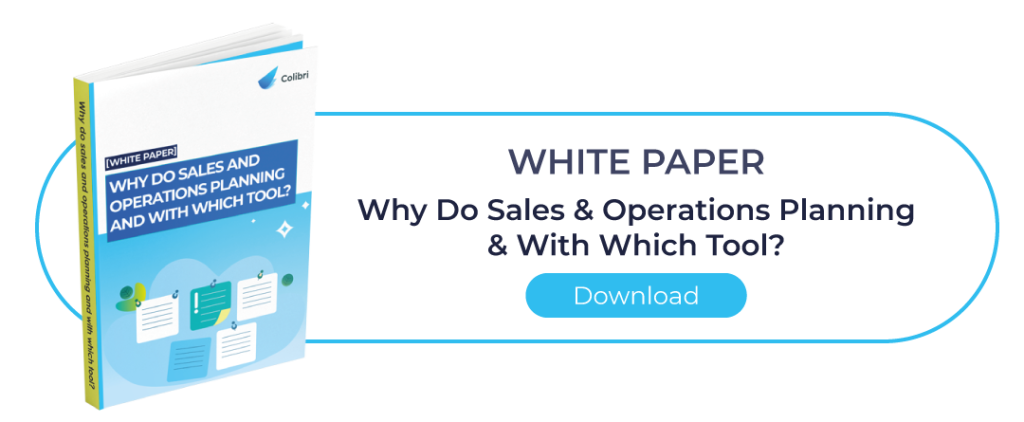 4 – Measure performances
The SCM tool provides users with performance indicators that measure, for example, travel times, supply lead times, fuel expenses, forecast reliability, inventory levels, service rates, … In short, it provides all the data needed for analysis and improvement. The SCM dashboard displays KPIs according to the selected data and objectives.
B/ Supply Chain Management: which stakes?
The stakes of Supply Chain Management are huge as it weighs the human and financial needs of organizations daily. This tool monitors and integrates each stakeholder in the supply chain to ensure perfect synchronization. This is the best way to ensure that the last link in the chain, the end customer, is satisfied.
To this end, the SCM is a measurement, evaluation, and collaboration tool. It is therefore designed to help control costs while respecting deadlines and the quality of service to the end customer.
A company investing in an SCM tool means three things:
It wants to improve its flow management and control its costs.
It wants to deliver its customers quickly and efficiently by way of making the right material and human choices.
It wants to better coordinate stakeholders, suppliers and intermediaries who do not communicate sufficiently, which leads to both delays in delivery and disruption the entire supply chain system.
The SCM brings a new way of working with all the stakeholders. Instead of integrating them into a closed organization, it opens it up so that it can be improved and aim for optimal customer satisfaction. Practically speaking, this means that both suppliers and forwarders are aware of the entire process; thus, they can measure the impact of each organizational or speed issue at their level.
Supply Chain Management: which performance indicators?
Performance indicators in a supply chain are real-time data retrieved from the system to provide a close-up view of the flow management. They are used to monitor the results of activities and operations, as well as inventory and supply.
SCM performance indicators are mainly:
Productivity and cost performance of suppliers, warehouses, and operations.
Inventory indicators (value, volume, markdowns, downgrades, etc.)
Supply indicators (lead time, planning, orders, etc.)
Internal/external customer satisfaction rate (service rate, out-of-stock rate, delivery speed, etc.)
KPI's can be chosen by each company depending on what it needs to transport and by which carrier type.
What is modern Supply Chain Management?
A modern SCM consists in the implementation of a digital, collaborative, adaptive and modular tool, which guarantees the relevance and visibility of information to all stakeholders.
From an organizational standpoint, modern SCM relies on a small number of people. For a simple reason: it is useless to involve several departments in the same management tool, which is intended to facilitate organization and increase overall performance.
Powerful, adaptable, regularly updated, a digital SCM tool like Colibri provides this modernity and agility.
Why Colibri is a modern SCM tool?
The solution is quick to implement.
Colibri is offered in a package and guides users.
It meets very strong operational needs.
It is:
It is possible to have several Colibri for several processes.
And finally, it can be connected to other solutions such as SAP or Salesforce.
With artificial intelligence, advanced algorithms and robotization, Supply Chain Management may one day configure itself. But we are not there yet! What is modern today in this digital SCM tool is the ease and speed in decision making and actions planning. Moreover, replacing man by machine in logistics is not on the agenda, on the contrary, machines need to be put at the service of people to help them be much more productive in less time and with less effort.
This is what Colibri's philosophy is all about! Our 100% cloud SCM solution brings you all the advantages of a complete and personalized digital tool.