Supply Chain associates must respond to multiple organizational constraints and at the same time meet productivity requirements. However, to develop their skills and productivity, they must first feel at ease in the company. The way your Supply Chain is organized is therefore essential. What are the challenges for associates and managers? How can a bad Supply Chain organization impact their efficiency? And finally, which Supply Chain tools should you choose to help them? Here are some answers.
The challenges for Supply Chain teams
For an efficient team, two types of challenges must be overcome: the management's challenges and the teams' challenges.
Supply Chain: Management's challenges
The manager's main challenge is to retain competent, operational and responsive associates by ensuring that the team is well trained, stable and satisfied at work. This requires good communication within the team and the right tools to achieve their goals.
Team sustainability is key for two reasons:
Supply Chain processes require agility and experience to be operational at all times. Thus, if the teams change every 3 to 6 months, management becomes more complicated.
Many companies see their forecasting processes stop overnight. The reason? The project owner has left the company, without anyone to take over. With companies tending to ask shrinking teams to perform ever more tasks, there is no fallback solution in case of disruption. If someone leaves the company, the organization suffers immediately and permanently. It is therefore essential to implement tools that allow associates to multi-specialize and thus sustain the organization.
At the same time, the trend towards Cloud computing is generating a large number of collaborative digital tools. Applications allowing multi-specialty, collaboration and immediacy are becoming available!
Everything is falling into place to allow daring companies to quickly reach an optimal level of efficiency.
Supply Chain: The teams' challenges
Because your associates are under a great deal of stress to meet objectives and deadlines, they deserve the most efficient tools. For example, if on the 15th of the month, they have not consolidated a history or retrieved all the information, they may find themselves in a stressful situation.
With high-performance SCM tools, teams now have access to a wealth of information that you only found in large companies with significant financial and human resources. In addition, information feedback to the management is vital, teams must therefore have advanced reporting and analysis capabilities.
On the associates side, it's a great asset because regardless of the tool used, mentioning it on a resume increases employability and competency credibility.
From Supply Chain planning to multi-business planning
Considering the main specificity of Supply Chain management is that it is multi-stakeholder by nature: internal and external interactions are continuous (suppliers, intermediate customers, etc.), the volume of data has been multiplied by 100 in barely 10 years, so to efficiently use this information a major data aggregation effort is required. These are constraints that SCM tools must manage in order to meet these three challenges:
Collaboration
Immediacy
Data volume
So much so that Supply Chain planning is becoming multi-business planning involving:
In other words, digitalization, immediacy and collaboration go beyond Supply Chain skills and involve all departments.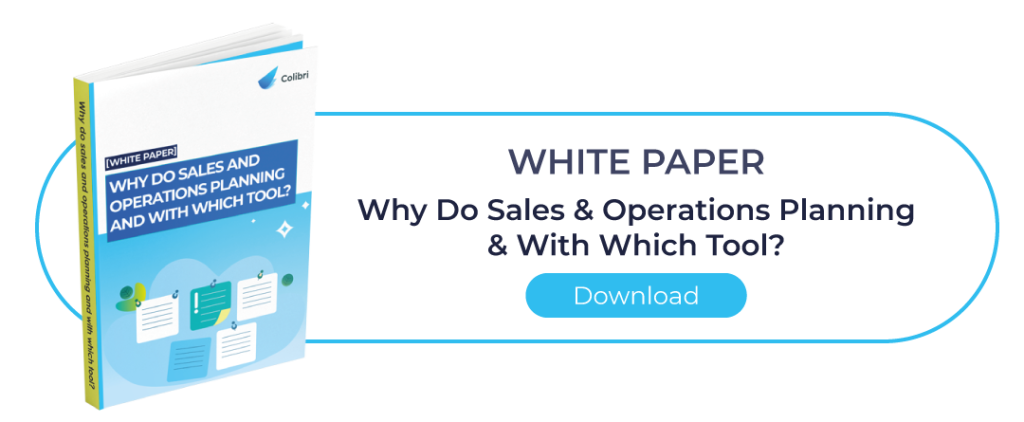 Supply Chain mismanagement risks due to lack of information
The lack of specific SCM tools can lead to a lack of information, decision making or processes that can, in the long run, have damaging effects and generate Supply Chain counter-performances such as:
Generate overstock and tie up cash
Unavailability of products needed by customers, generating negative financial and brand image impacts
Lead to product obsolescence along with all its associated costs (availability costs, storage costs, destruction costs, etc.)
In addition to inventory issues, relationships and reputation are also at stake: the company can lose customers and experience social conflicts. Moreover, the overall brand image may be damaged: a company that manufactures, doesn't sell and destroys its inventory looks bad.
A procurement mistake can have a significant impact for a quarter, or even for a whole year, but executives only realize this when it's too late. Supply Chain has a strong influence on the company's sustainability, but it is often underestimated, so in order to avoid this kind of pitfalls, companies must provide their teams with the right tools and skills.
How do you develop your teams' skills?
Because no project will succeed without the involvement of the main users, the first thing to do is to involve associates in the selection of a Supply Chain tool.
In addition, a smooth learning process is important. In the past, developing skills involved cumbersome processes that were difficult to manage. Today, the multiplicity and user-friendliness of the available tools make the learning curve more manageable. Software publishers offer educational courses to guide and train users in the form of short training sessions or webinars. With COLIBRI, for example, the users learn by using the tool with their real-life data.
Software publishers are increasingly adopting a user experience approach. Ideally, users should feel that they belong to a community of users, to an ecosystem, allowing them to exchange with peers which contributes to skills development in Supply Chain teams.
And what about Colibri?
COLIBRI's approach is very straightforward: the tool was designed for users, not for statisticians who are experts in advanced algorithms.
Colibri's teams are also very responsive and offer a turnkey methodology. For one year, users can submit any questions they may have to the support team, which is not always the case with other solutions.
Colibri thus combines:
Simplicity
Experience
Guidance
Colibri handles tedious and non-value-added tasks, while allowing users to work by exception on what really matters.
Supply Chain Planning teams are facing a lot of stress, especially because of the multi-specialization required from the associates. The management's main challenge is thus to build sustainable teams and for the associates to be able to work serenely. In this context, the acquisition of a digital, collaborative and immediate tool makes sense: it helps structuring processes over the long term and contributes greatly to the development of skills.
And even with a high turnover, the process will be resilient because it will be digitalized and robotized!