As a supply chain consultancy, you help companies ensure sales, control stocks, and optimise their processes according to their level of maturity. You are a source of proposals, particularly about the digitalisation of the supply chain. This is a major strategic challenge for the companies you support.
Because there is no question of recommending a tool that would prove unsuitable or ineffective, discover why COLIBRI will make your clients forget Excel!
Supply chain: the limits of Excel
Excel is still omnipresent in companies, especially for supply planning. It is indeed an easy to use and relatively cheap solution.
However, in practice, spreadsheets quickly show their limits! Especially when it comes to managing large volumes, fluctuating markets, or integrating business practices and other collaborative processes.
In addition, Excel needs to be optimally configured to accommodate the planning of the various aspects of the supply. This means that essential manipulations are necessary upstream. Some data are complex to integrate, such as promotions or product group substitutions, into a spreadsheet. The Excel configuration wastes precious time for the teams for a task with little added value.
Teams are often forced to work with several tables at the same time. An impractical configuration that does not help to have a global vision… nor to make uniform decisions! Moreover, when several people work on the same Excel planning tool, collaboration is often complex and… generates errors!
Finally, let us not forget that in supply planning, the information to be processed remains sensitive data. It is difficult to guarantee total security in Excel.
For example, an employee who leaves the company often keeps a version of the Excel file on their hard drive. In contrast, if the company uses cloud software with SSO, their access is automatically disabled in real-time.
COLIBRI: S&OP software dedicated explicitly to efficient supply chain planning
COLIBRI is a 100% cloud-based S&OP software. This solution is particularly suitable for companies that want to improve their Supply Chain Management processes by moving away from Excel, but without having to spend too much time on this transition.
COLIBRI enables companies to reduce the time needed to produce forecasts by 3!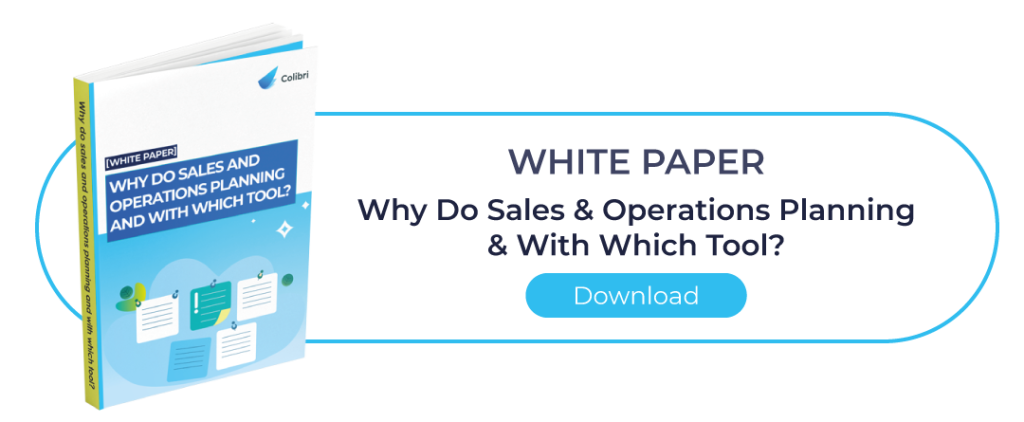 The task of planners is becoming increasingly complex. When managing forecasts, increased international competition, ever-changing demand for products with short life cycles, and the multiplication of distribution channels must all be considered. In this context, migrating from Excel to COLIBRI can help planners save time at various levels.
Designed to be collaborative, this S&OP software allows for greater efficiency. In addition, COLIBRI has an easy-to-use interface. Teams can access a reliable and complete analysis in just a few clicks.
Finally, processes are improved by structuring them in software. Colibri allows for both automated planning and increased reliability. Thanks to the tool, users will more easily define the proper perimeters. In addition, specific tasks that used to take a week to complete via Excel are now processed in just a few days with COLIBRI.
This significantly improves the planners' overall productivity. Therefore, each of them can spend more time on tasks with higher added value (a strategic customer, a product launch, or a product that is often out of stock). It is also an opportunity for planners to increase their skills!
Supply chain consultancies: when to advise your clients to switch from Excel to Colibri?
The complete S&OP tool COLIBRI is recommended to your clients when you feel that Excel has reached its limits. In the following situations:
When sharing information or updating data has become complex and time-consuming.
When the forecaster faces a heavy workload.
When there are a multiplication of items or people involved.
If the system used is no longer adapted to the market: this is almost always the case with in-house software or Excel, which lacks flexibility… and scalability.
When the knowledge of the forecasting tool is only based on the skills of a handful of employees: if they are absent or leave the company, the solution becomes difficult to use.
When it comes to securing data: when sharing spreadsheet-type files, their protection is not guaranteed. A solution such as COLIBRI has the advantage of being secure.
Companies that choose to use COLIBRI S&OP software can structure their forecasting process. Firstly, they can establish effective collaboration between teams and rely on a quickly evolving tool with the market. In addition, COLIBRI is a centralised solution that makes it easy to share the desired information. Data is saved in complete security, and reporting is simple and efficient.
A complete S&OP software that generates profits for your customers
Reliable and efficient, COLIBRI can be deployed with confidence to your customers. This comprehensive S&OP tool enables companies to create gains on several levels.
Qualitative gains: mainly for the consolidation of supply chain data. Also at stake: better sharing of information and inter-company collaboration; a more robust, scalable, and regular process, thus more effective continuous improvement; a better service rate for software users, and a better customer service rate.
Quantitative gains: the tool makes it possible to improve the reliability of forecasts and rationalise stocks with a reduction in stocks of obsolete products and more reliable stocks of flagship or best-selling products. As a result, user companies secure their turnover by considerably reducing the risk of stock-outs. The time spent by the planning teams in carrying out the S&OP process is also reduced.
Supply chain consultancies: advise your clients to switch from Excel to COLIBRI, a complete and reliable S&OP solution with ROI within a year! Ask now for a personalised demo with one of our experts!