Will your S&OP tool deliver ROI in 6 months, a year, or more? The answer to this question depends on the device you choose! At Colibri S&OP, we know that IT teams are often very busy. The Supply Chain needs reliable, adapted tools to anticipate, organize, plan, and control. With Colibri S&OP, we have taken up the challenge of designing software that's innovative, quick to deploy, and easy to use. This allows you to benefit from a fast ROI and sustainable savings.
Colibri S&OP software: quick deployment
After investing in an S&OP solution, companies must be able to benefit from ROI as quickly as possible. Therefore, the deployment of this tool must be carried out quickly.
However, we've found that most S&OP solutions are complex and cumbersome to deploy. And for fear of spending too much time adapting to this new tool, many companies prefer to stick with Excel spreadsheets.
While traditional solutions can take a long time to set up and involve tedious procedures for employees, the Colibri S&OP tool can be implemented in only three months.
Out of this period, only 10 to 15 days are left for the critical user. The rest of the work is managed by Colibri S&OP consultants.
For companies: no need to spend several months writing the specifications, designing the process, or analyzing the responses…
Within 10 days, the Colibri S&OP teams configure the contextual prototype that allows potential users to project themselves in an actual use case.
The interfacing load is also reduced and represents only 4 to 5 days of work for the IT departments.
Thus, Colibri S&OP is a simple tool to implement and does not add to the team's workload.
Moreover, you can benefit from personalized support or an interfacing package. An ideal option if your IT teams need more availability!
A tool that offers you immediate ROI
Quickly installed and operational, the Colibri S&OP solution benefits you from an ROI in record time! Indeed, you immediately realize qualitative and quantitative gains.
Colibri S&OP simplifies processes: it makes them more secure and faster. Information is shared much faster between teams. Communication has become more fluid and more accessible. Employees are more productive and can spend more time on rewarding and potentially higher value-added tasks.
Colibri S&OP also helps companies benefit from quantitative gains. Thanks to the tool, forecasts and inventories are streamlined. Risks of stock-outs and obsolescence are significantly reduced; best-sellers can be optimized to increase the company's turnover.
With Colibri S&OP, you benefit from immediate results: your sales figures can quickly increase by 2 and 10%. The implementation of this new tool is, therefore, very quickly profitable.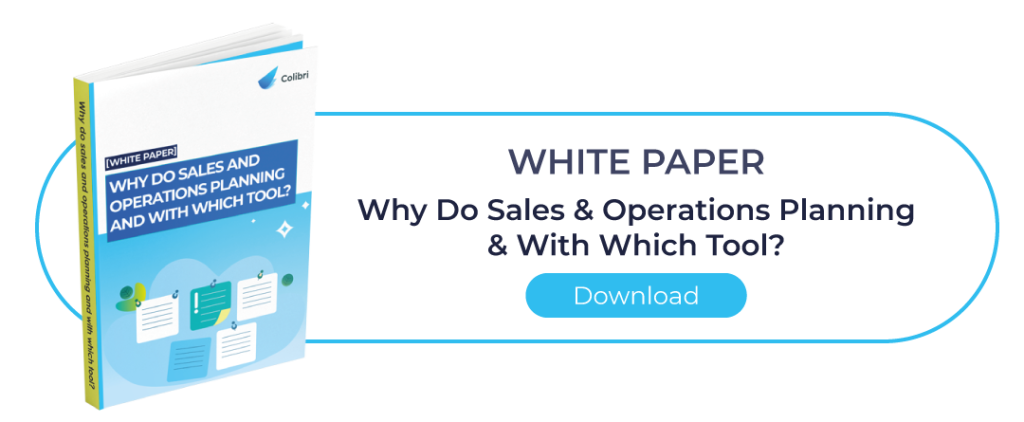 Sustainable savings!
Not only does Colibri S&OP software guarantee you a short-term ROI, but it also allows you to save money in the long term.
Better calibrated stocks
With the Colibri S&OP tool, you benefit from a shared global vision. You gain relevance in stock management: they are calibrated better. There is less waste and fewer out-of-stock, and you can meet demand as best as possible. This allows you to increase your turnover.
More efficient planning
Thanks to the software, the teams have better control over the planning load. The Sales and Operations Planning strategy can be managed over 12 or 24 months. All this, in the correct orders of magnitude.
The employees benefit from a global and shared vision which improves the management of the stocks and, in particular, the anticipation. Emergency repairs, which are costly to the company, are reduced. Costs related to supply and production are reduced.
In addition, teams benefit from more reliable forecasts. Therefore, the company can implement better strategies and control service rates, workloads, production capacities, supplies, etc.
More margin on good references
By opting for a comprehensive tool capable of helping you manage your business, such as Colibri S&OP, you can prioritize products more efficiently according to their position in the value chain, especially if you have opted for ABC categorization products are ranked according to their strategic importance.
Less turnover: human resource optimization
An efficient S&OP software helps you optimize the human resources component. By streamlining processes in support of the overall strategy, S&OP sets better management rules. Employees spend much less time trying to solve problems. This has a tangible impact on the teams' well-being: they are more serene, productive, and sustainable. Thus, the turnover phenomenon, which is costly to the company, is reduced.
Increased investment capacity
In addition to savings, Colibri S&OP frees up investment capacity, which promotes company growth.
The tool helps you to optimize your supplies thanks to a better follow-up of stocks. Thus, you improve your WCR (working capital requirement) and free up cash flow… which you can then use for investment!
Colibri S&OP is a 100% Cloud solution specializing in Demand and Supply Planning. Ideal for companies wishing to improve their Supply Chain Management processes, the software includes different modules dedicated to Demand Planning, Supply Planning, and S&OP. Abandon cumbersome and unintuitive spreadsheets in favor of a powerful, collaborative, and intelligent solution that allows you to save money! Contact us for more information!