The supply chain can exchange and collaborate more easily with other departments by establishing well-defined communication rituals. In particular, with the marketing or sales teams. Focus on these communication rituals and the key role of a tool such as Colibri S&OP.
S&OP and communication rituals
As part of the S&OP cycle, demand planning teams must be able to communicate well with other departments.
To do this, it is first necessary to have a reliable, shared database.
Then, a whole communication ritual must be established between supply chain planning, marketing, and sales.
If communication with marketing is facilitated, it will be easier to know which products or series will be discontinued or launched, which channels will be used for sales and in which countries, or which promotions and events will be scheduled.
Suppose exchanges with the sales department are more fluid. In that case, it will be much easier for demand planning to access data that enriches the process, such as customers' financial situations, upcoming orders, or competitors' positioning.
Supply chain planning: a ritualized monthly communication process
Ideally, supply chain planning should be based on a monthly ritualized process, broken down into several steps, week by week.
Week 1 will be dedicated to the marketing review. The aim is to collaborate with the marketing teams on significant introductions or withdrawals, the evolution of the assortment, and promotions.
During week 2, the teams will exchange with the sales department. The objective: to have a fine-tuned vision of the forecasts according to customer behavior.
In week 3, we must decide on the operational strategy to follow over the next few months. At this stage, discussing the objectives, such as the target service rate, will be necessary. Different collaborators must participate in this exchange: financial director, production director, planner…
Finally, during week 4, the objective will be to share the view of this strategy during one or more meetings, at the end of which the S&OP plan will be agreed upon with management.
In parallel with this monthly process, a weekly review will have to be set up for operational planning. This review will be carried out alongside all those who can impact planning: quality controller, procurement officer, production planner, stock manager, sales manager, production manager, or production tool manager.
Implementing a weekly review with these different interlocutors will guarantee information sharing and adapting the process, especially if an unforeseen and potentially impacting event occurs.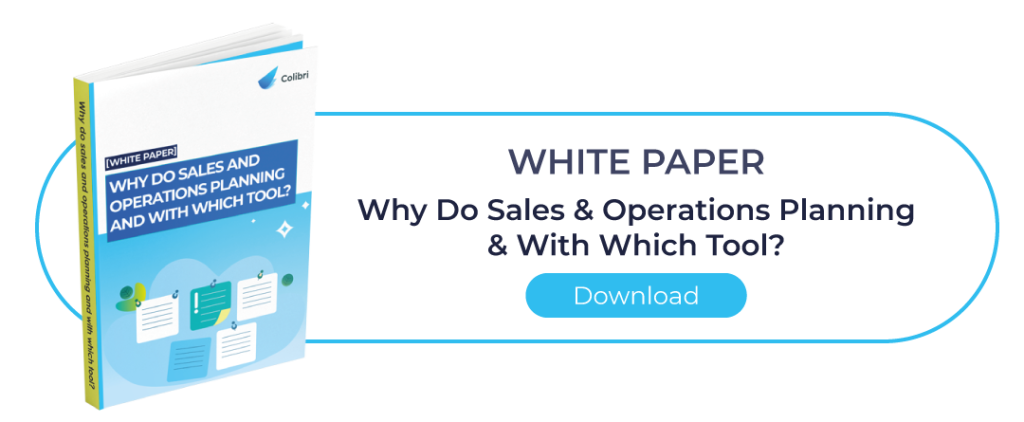 What are the risks if no communication rituals are put in place?
If no communication ritual is implemented, information will inevitably be poorly transmitted between departments… the company risks facing various critical situations.
For example, supply planning teams may work many hours on planning without considering a marketing promotion… because they will not have been informed of it.
Or employees will not know that a customer is in recession and unable to place an order for several weeks. As a result, forecasts will be distorted…
Another situation that can result from poor communication is stock-outs or overstocking.
In all cases, these events are synonymous with company turnover loss. Moreover, they generate non-productivity for the teams, tensions, and conflicts.
For all these reasons, a company has everything to gain by setting up real ritualized communication processes. This is a crucial step that requires the will of management and the appointment of a central contact person in the supply chain.
This approach will also require implementing a change management process. Thus, the adhesion of the employees and the adoption of the new procedures will be easy.
Make interdepartmental communication easier with Colibri S&OP
These departments have their language and habits in marketing, sales, and supply chain.
For example, marketing will work every month on forecasts for promotions or collections. The sales department will work on forecasts per customer, country, or channel, possibly with quarterly sales figures. Finally, the supply chain tends to work by article, in a multi-channel way, with different types of forecasts and specific units, notably logistics.
A tool such as Colibri S&OP will act as an interface where each department can communicate without necessarily speaking the same language.
Without such software, departments will work "the old-fashioned way" on spreadsheets. However, Excel is not an intuitive tool, a source of errors, and it doesn't make exchanges easier! This software wastes a lot of time for the company, which loses productivity and energy on tasks with little added value…
On the other hand, Colibri S&OP helps your company gain agility and react to unexpected situations that may arise daily. Updated daily, information flows better between all departments. Communication is optimized, and you gain in performance!
Colibri S&OP is cloud-native, collaborative, and multi-user. The software allows employees to work in the unit. They choose euros, dollars, liters, items, and customers. You can also select the time frame (week, month, semester, year) and the level of aggregation (product, product family, business unit) that interests you.
Are you looking for a solution to better team communication and for a more efficient supply chain? Contact our experts and get your live demo now!