Do you want to avoid your employees going it alone? By its very nature, S&OP is a collaborative process involving all the company functions concerned. Adopting this process and the right tools to implement it will enable you to create new synergies, improve communication and work together more serenely.
S&OP: a collaborative, co-constructed approach
In a context where markets constantly evolve, S&OP is becoming fundamental to companies. This process helps all departments to think and act in concert, to absorb variations better,and achieve set objectives.
The S&OP process enables rigorous company activities planning consistent with demand, sales targets, and available resources.
To be effective, S&OP planning must include all company departments: from HR to management, including finance and the supply chain.
As a medium-term strategy, S&OP makes coordinating decisions and anticipating variations possible. This facilitates inventory management and avoids delivery delays. For the company, the positive repercussions are numerous and go far beyond the simple financial aspect.
Centralized data and better synergies within the company
To facilitate S&OP planning, companies should ideally opt for a dedicated tool that centralizes the data required for analysis and forecasting.
With S&OP software, employees can easily access all the information they need. Data is available in a single, consistent format. As a result, employees spend less time checking and formatting data. And the whole company gains in efficiency, visibility, and reliability.
What's more, by its very nature, S&OP creates better synergies. The process combines all the company's departments, from sales and manufacturing to R&D and accounting. Gone are the days of the "lone wanderer": now, the collective takes precedence.
As for communication between teams, it becomes much more fluid. Employees benefit from a better working atmosphere, while internal conflicts and turnover are significantly reduced.
Another key benefit is better alignment of the company's strategic and operational departments. Some departments are closely linked. This is the case, for example, with supply planning and strategic planning, whose decisions are conditioned by those of the other.
Thanks to a multi-module S&OP tool where information is unified and can be consulted instantly, all departments can work in the same direction, without error, and more coherently.
Finally, the tool gives everyone a 360° view of the company's strategy. This way, each employee can participate more easily in the reflection process and enrich it in real time!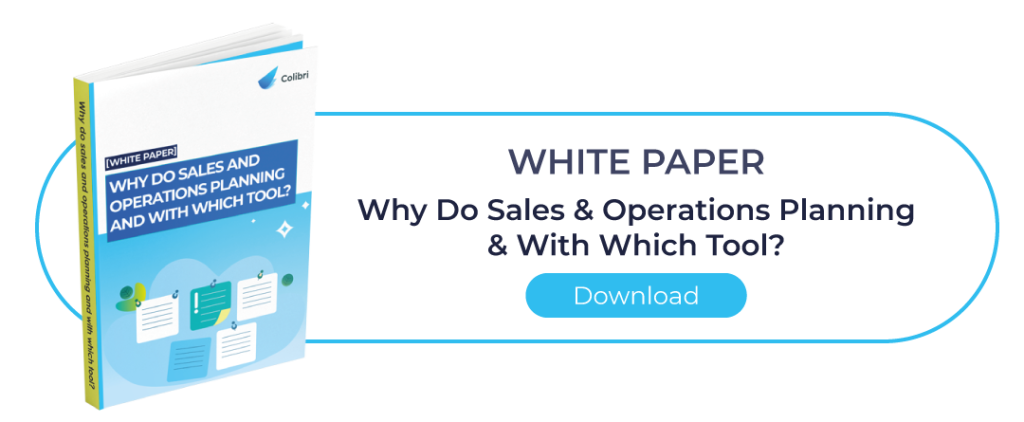 S&OP: the need for multi-department communication
As part of the S&OP cycle, setting up a communication ritual between supply chain planning, marketing, and sales is ideal.
If demand planning communicates better with marketing, it will be much easier to know which products or services are being launched, which channels are being used for sales, and what promotions or events are planned.
And exchanges with the sales department are made easier. In that case, demand planning will have easier access to data that enriches processes, such as customers' financial situation, future orders, or the positioning of the company's competitors.
A ritualized communication process should include clearly defined weekly stages. The first week, for example, could be devoted to a marketing review, the second to discussions with the sales department, and the third to defining objectives with the operational departments. Then, in week 4, demand planning would share the strategic view and validate the S&OP plan with management.
The company is bound to take risks if no communication ritual is implemented. Information can be poorly transmitted from one department to another. This can quickly lead to malfunctions such as out-of-stock situations or incorrect forecasts.
Adopting S&OP software makes it easier for teams to set up communication rituals. Information is updated in real-time, and everyone gains agility.
Employees are better equipped to deal with unexpected events. Information flows better within and between departments. Communication is optimized at all levels, and everyone gains work comfort and performance.
Which tool for a unified, collaborative S&OP process?
There are technological solutions specially adapted to collaborative and unified processes. Such is the case with Colibri S&OP software.
The solution makes it easy to share data with all company departments. Access to information is straightforward and can be compiled through reports or dynamic dashboards. All without the need for additional interfacing.
What's more, Colibri S&OP applies the right level of granularity. Each employee can access a very high level of information detail or select products, families, or references in the desired timeframe.
The tool can be parameterized to facilitate the user's task. For example, you can create an alert for certain employees each time a forecast is updated.
Easy to implement and offering rapid ROI, Colibri S&OP is flexible and modular. The solution adapts to the needs of companies and their employees, making it easier for them to work together.
In short, Colibri S&OP surpasses Excel on several levels. Because while spreadsheets are free and still widely used in companies, they quickly reach their limits when it comes to integrating business practices or collaborative processes… With Colibri S&OP, sharing or updating data and adding comments is much simpler and more intuitive.Discover a software package that facilitates collaboration and streamlines communication within the company: Request your Colibri S&OP demo now!